Rank #14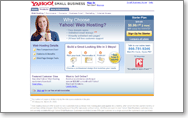 Yahoo is one of the best-known and trusted brands on the Internet and caters to a global audience. Yahoo's web hosting service provides tools and features that are great for both personal and professional web sites.
Order Now
Yahoo! : In Brief
Yahoo web hosting provides its customers with comprehensive hosting services that are great for personal web sites as well as small and medium-sized businesses. With this company's service, you'll get lots of cool features and plenty of extras like free site building tools and database interactivity support. It's also important to remember that Yahoo is a highly trusted brand, so you can feel confident that you'll receive reliable, quality service.
Pros
Yahoo hosting has plenty to offer including shared and e-commerce plans loaded with features. The service also comes with a free domain name, 24-hour support, and user-friendly instructions. Not be forgotten is the company's guarantee of 99.9% uptime.
Cons
Yahoo's hosting plans come with a $25 set up fee, although there are frequent promotions that waive this extra cost. While the control panel is very inclusive, there's so much information that it's not always easy to find what you want. Also, setting up e-mail accounts with webmail access is unnecessarily complicated.
Price & Value:
Yahoo's plans start at $7.77, which is a bit on the expensive side compared to many other web hosting packages offered by other companies. However, keep in mind that with this price you're getting many features and extras as well as the quality and reliability of the Yahoo brand. So, overall, the value is still quite good.
Technical and Customer Support:
Yahoo customers have access to a variety of support tools that are comprehensive and helpful. The included help documentation features excellent organization and an easy to use search function. When customers require further help, there's an online trouble ticket system as well as a 24/7 toll-free telephone line. Response time seems to vary quite significantly, probably due to the size of the company and the vast number of support requests received daily.
Features/Scripts/Languages:
One of the best aspects of Yahoo web hosting is that it comes full of great features. The starter package comes with 5 GB of storage space, 200 GB of data transfer, free domain name, 200 business e-mail addresses, web site enhancements such as guest books and visitor counters, and a variety of online marketing discounts. There are four different web-based editors that are great for beginners and the web-based file manager is comprehensive and user-friendly. Yahoo also offers advanced scripting and database tools, supporting Perl, CGI, PHP, MySQL, and Front Page.
Bottom Line:
The Yahoo brand is a giant on the Internet and provides quality, reliable web hosting. The service is a bit on the expensive side but it comes with plenty of great features that can translate to excellent personal and business web sites.
Rating: 8.0 / 10