Rank #2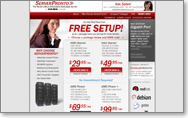 An industry leader in the dedicated hosting realm, ServerPronto takes care of all its customers' dedicated hosting needs. This host provider offers top-of-the-line service at an amazing price.
Order Now
ServerPronto : In Brief
ServerPronto started up in 1999 and is a subsidiary of Infolink. This company provides only dedicated hosting, not shared hosting. Its services are first-class and its value incredible. This is the host provider to choose for experienced web developers looking for a high-quality, high-performing dedicated host.
Pros
99.999% uptime guarantee; data centers with state-of-the-art hardware; very reliable service; first-class Service Level Agreement; excellent reputation.
Cons
Only offers dedicated hosting -- not suitable for beginners.
Price & Value:
ServerPronto offers incredible value. Its dedicated hosting plans start at an amazing price of only $29.95. We haven't found another company that provides such great value for dedicated hosting. The service is high-powered and extremely reliable, so its value is the best in the business. If you have solid technical skills, then ServerPronto's dedicated server hosting is an excellent deal.
Technical and Customer Support:
ServerPronto provides 24x7 support, 365 days of the year. Our experiences with the support staff were pleasant, effective, and efficient. Help is available via telephone and e-mail. ServerPronto's technicians are highly talented and helpful and are there to solve your problems whenever you need them.
Features/Scripts/Languages:
ServerPronto offers revolutionary dedicated server hosting. Whether you're looking for UNIX or Windows hosting, ServerPronto is a great choice. With this company you'll get your own server, between 40 to 120 GB storage space, between 200 to 800 GB of data transfer and AMD Athlon machines. ServerPronto backs up its great features with incredible service and support. This company is the real deal.
Bottom Line:
ServerPronto only offers dedicated server hosting, but it's definitely one of the best host providers of its kind. While this service is geared toward highly skilled and trained people, ServerPronto offers outstanding value, reliability and overall top-notch service.
Rating: 9.7 / 10