Rank #17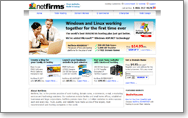 Netfirms has been keeping customers happy since its establishment in 1998. This company offers numerous services such as domain name registration, Internet marketing, and web hosting.
Order Now
Netfirms : In Brief
Netfirms offers quality web hosting solutions for all types of customers. Whether you're building a personal web site or a site for your business, Netfirms can provide you with a great collection of features for a very economical price. This company has received several hosting awards and has a good record in the industry. Netfirms uses a multi-server method which reduces downtime and increases the availability and reliability of their service.
Pros
Netfirms' hosting plans are very affordable and the Flash tutorials are a great feature. Also, Netfirms provides a thirty-day money back guarantee.
Cons
Netfirms only offers one year plans and its telephone support is not toll-free. There have also been some reported downtimes and certain features that are good for business web sites are lacking.
Price & Value:
Even though the hosting plans offered by Netfirms may lack certain features offered by other hosting providers, their prices are very economical and affordable. Netfirms' budget hosting plan starts at only $4.95/month and is great for personal and hobby web sites. The UNIX hosting plan is a good choice for small businesses and costs only $9.95/month. So for a very economical hosting option that still provides a number of features, Netfirms is a great choice.
Technical and Customer Support:
Netfirms provides its customers with both indirect and direct channels for accessing technical and customer support. Indirect support options include a Knowledge Base, Flash tutorials, and a Search Tool. For direct access, customers can use e-mail support, live chat, or telephone. Netfirms' priority e-mail system is available 24/7 and is known for its fast response time, often resulting in a response within four hours, no matter what the time, day or night. One unfortunate aspect of Netfirms' support is that the telephone line is not toll-free.
Features/Scripts/Languages:
Netfirms' budget hosting plan, its Plus plan, comes with many great features, especially considering its incredibly low price. With this hosting plan, customers get free web site design software, free blog software, 10 GB of storage space, 500 GB of monthly data transfer, and 10 e-mail accounts. This hosting package supports FrontPage extensions, PHP, Perl, Server Side Includes (SSI), Macromedia Flash, Shockwave, RealAudio and video streaming, and Windows media streaming. New users also receive a free startup CD that provides helpful tools and information for building and running web sites.
Bottom Line:
Netfirms offers very economical web hosting solutions. This company provides hosting services for both personal web sites and business web sites, but it's probably best for smaller and personal sites.
Rating: 7.0 / 10