Rank #12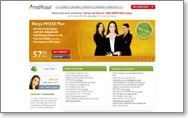 MidPhase Services is a provider of shared, budget, dedicated, and advanced web hosting solutions for a wide range of clients. From personal web sites to e-commerce web sites, MidPhase has your hosting needs covered.
Order Now
MidPhase : In Brief
Based in Chicago, MidPhase is a web hosting provider with customers all across the globe. This company offers hosting packages for a variety of different types of web sites and provides many excellent features. MidPhase has a great track record for reliable and competitively priced web hosting services.
Pros
No risk 30 day money back guarantee.
99.9% up time guarantee.
Free domain for life.
24/7 phone and e-mail support.
Cons
Live chat support is not available 24 hours/day.
Price & Value:
MidPhase offers very competitive prices, with its most basic plan costing just $7.95/month. For this great price, customers get incredible features and great service. Discount prices are available for customers who agree to sign up for longer terms and set up fees are waived when clients commit to a term of at least one year. Overall, MidPhase offers great value.
Technical and Customer Support:
Indirect support channels:
Online tutorials
Online help
Direct support channels:
Telephone support - 24/7
E-mail support - 24/7
Live chat support - 8:30am to 10:30pm central time, 7 days/week.
Features/Scripts/Languages:
MidPhase offers an excellent features set, even with its most basic plan - Mega-PHASE. This package provides:
200 GB Disk Space
Free Domain for Life
3,000 GB Bandwidth
E-commerce Capabilities
Mega-PHASE e-mail features include:
POP3 or IMAP E-mail Access
Auto-Responders
Forwarding
SpamAssassin
Features for developers include support for:
1 MySQL Database
PHP
Python
PERL/CGI and a CGI-BIN
phpMyAdmin
CRON Access
Server Side Includes (SSI)
IP Banning Access
Bottom Line:
MidPhase is a sure bet when it comes to choosing a reliable and quality web hosting service for all types of web sites. Their plans come with excellent features and offer great value for your money.
Rating: 8.9 / 10