Rank #15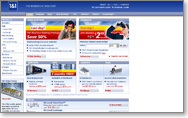 1&1 and has been in the web hosting business for more than a decade and underwent international expansion beginning in June 2000. Now, this highly respected company serves more than 3.5 million customers and its customer base continues to grow every day.
Order Now
1 & 1 : In Brief
With the latest software, over 37,000 servers, and top-notch security, 1&1 offers highly reliable and consistent service. This company's web hosting is suitable for everyone, from beginners who want to design a personal web site for fun to professionals who wish to take their business to a whole new level. 1&1 provides its customers with all-inclusive service, numerous excellent features, and first-rate support. Best of all, everything comes at a low price and with no hidden charges.
Pros
1&1 provides a choice of four all-inclusive plans and free domain names. With this company, there are no hidden charges to worry about and you have the option of a 90-day money back guarantee. In addition, 1&1's service features 99.9% uptime.
Cons
1&1 does not provide all the services that some professionals would like to have. For example, this company's service lacks Cold Fusion, JSP, and VPN. Also, Server Side Includes is only a feature of the two higher cost plans. Finally, 1&1's script support is not the best in industry and the control panel, while excellent, is somewhat limited compared to other available control panels.
Price & Value:
1&1's web hosting service plans start at a cost of only $3.99 per month. This is an incredibly low, competitive, and affordable price. While this company may not offer all the services preferred by some professionals, the feature-to-price ratio is still excellent.
Technical and Customer Support:
1&1's web hosting service is accompanied by quality, 24 hour support available seven days a week, every day of the year. Customers have access to technical and customer support by both phone and e-mail. 1&1 also provides a detailed and comprehensive Knowledge Database which includes a bulletin board where customers can post and receive answers to all different kinds of questions. Furthermore, this company also provides its customers with detailed online FAQs that will provide answers to many queries.
Features/Scripts/Languages:
1&1's customers enjoy the use of an excellent, customized control panel that boasts a user-friendly interface. This control panel allows users to control numerous functions such as domain management and mail management. 1&1's hosting service provides free domain name registration, site building tools, and security features. With this company, you have a choice of Linux hosting, Windows hosting, dedicated server hosting, and e-commerce hosting.
1&1 supports MySQL databases, FrontPage Server Extensions, and a ready-to-run CGI library. Any customer who is not completely satisfied with 1&1's service can take advantage of the 90-day money back guarantee, no questions asked.
Bottom Line:
1&1's web hosting is a great choice for a wide range of customers. While it may lack a few professional web developing features, it's still great service for an excellent value.
Rating: 7.3 / 10